Fates Market
Recipes
https://www.fatesmarket.net/Recipes/Detail/7536/Roasted_Vegetable_Lasagna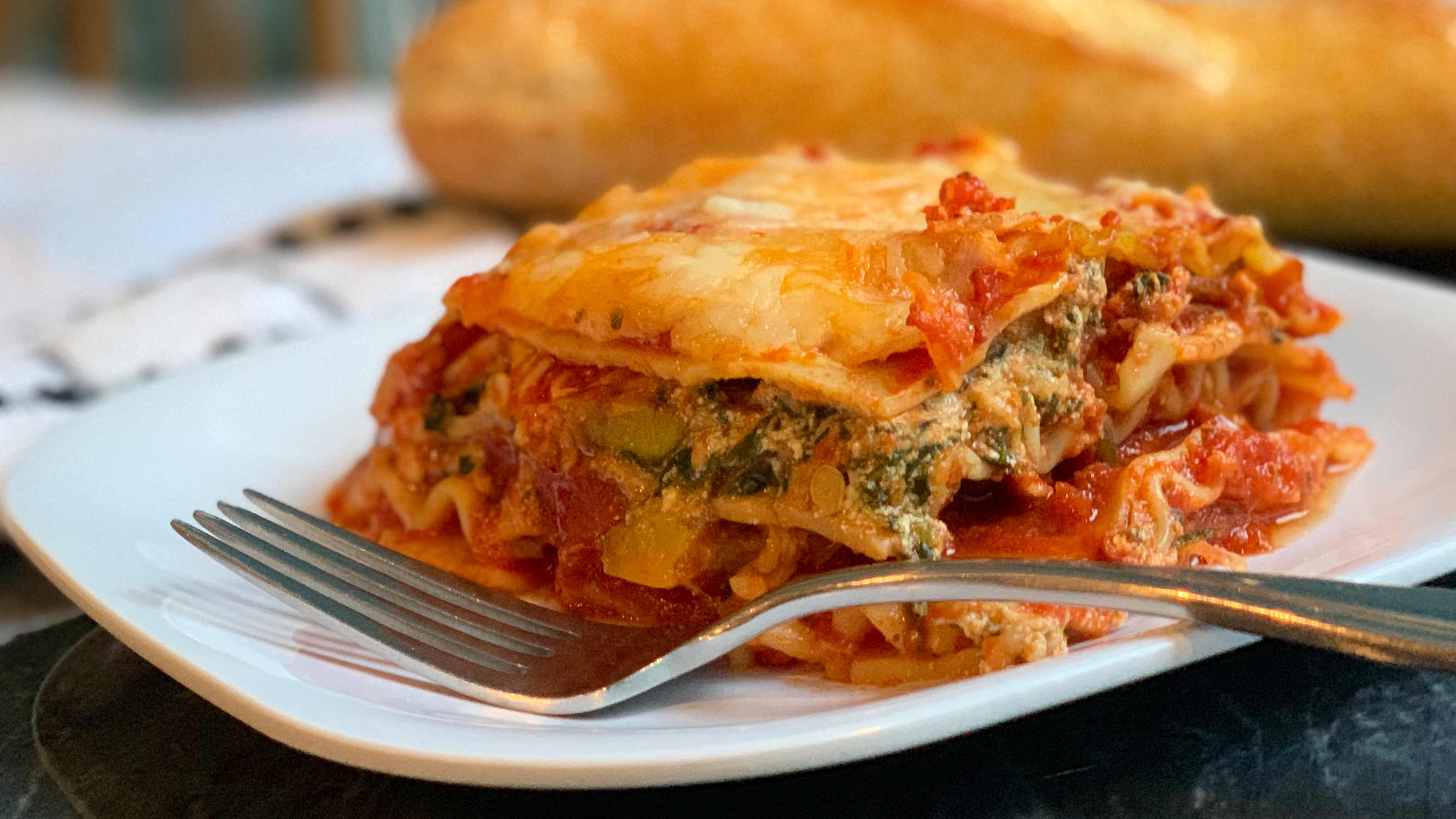 Roasted Vegetable Lasagna
Yield: 12 servings
Preparation Time: 45 min; Cook: 50 min
Ingredients
12
pieces

lasagna, cooked according to package directions and drained (from a 1 pound box)

1
package

(8 ounces) mushrooms, sliced

1

zucchini halved lengthwise and cut crosswise into 1/2- inch pieces

1

yellow squash, halved lengthwise and cut crosswise into 1/2- inch pieces

1

yellow bell pepper, cut into 1- inch pieces

1

red bell pepper, cut into 1- inch pieces

1

small red onion, cut into 1- inch pieces

2
tablespoons

balsamic vinegar

1
teaspoon

olive oil

2
cloves

garlic, minced

1/2
teaspoon

dried rosemary, crushed

1
jar

(26 ounces) spaghetti sauce plus

1
cup

spaghetti sauce (from a 26 ounce jar)

1
container

(15 ounces) ricotta cheese

1
package

(10 ounces) frozen chopped spinach, thawed, squeezed dry

1

large egg white

1/4
teaspoon

black pepper

1/4
teaspoon

red pepper flakes

4
cups

(16 ounces) shredded mozzarella cheese, divided

1 1/4
cups

(5 ounces) grated Parmesan cheese, divided
Directions:
Preheat oven to 425 degrees F

Spray a shallow roasting pan with cooking spray. Note: You may need two roasting pans so vegetables aren't overlapping. Spread mushrooms, zucchini, yellow squash, bell pepper and onion covering the pan(s) in a single layer.

In a small dish, combine vinegar, oil, garlic and rosemary; brush evenly over vegetables. Bake vegetables for 15 minutes and toss. Continue baking 8 to 10 minutes longer or until vegetables are browned and tender.

Spoon 1 cup spaghetti sauce over the bottom of a 13 x 9- inch baking dish or lasagna pan. Arrange 4 pieces of lasagne (3 lengthwise, 1 cut and placed width-wise) over the sauce. Cover lasagne with 1 cup sauce.

In a medium bowl, combine ricotta cheese, spinach, egg white, black pepper and red pepper flakes. Drop half the cheese mixture by spoonfuls over sauce; arrange half of the roasted vegetables between spoonfuls of cheese mixture.

Sprinkle 1 cup mozzarella cheese and 1/4 cup parmesan cheese over the top.

Arrange another 4 pieces of lasagne (in the same manner) over shredded cheeses, pressing lightly; top with 1 cup sauce.

Spoon remaining cheese mixture, roasted vegetables over the sauce and sprinkle 1 cup mozzarella and 1/4 cup parmesan over the top.

Arrange remaining 4 pieces of lasagne over the top in the same manner and top with 1 cup spaghetti sauce.

Reduce oven temperature to 375 degrees F.

Cover lasagne with foil; bake 45 minutes. Uncover; sprinkle with 2 cups mozzarella and 3/4 cup Parmesan cheese; continue baking, uncovered, 5 minutes or until cheese is melted. Let stand 10 minutes before serving.
Photo and food styling by Webstop
Please note that some ingredients and brands may not be available in every store.
Fates Market
Recipes
https://www.fatesmarket.net/Recipes/Detail/7536/