Fates Market
Recipes
https://www.fatesmarket.net/Recipes/Detail/6100/Cucumber_and_Onions_in_Sour_Cream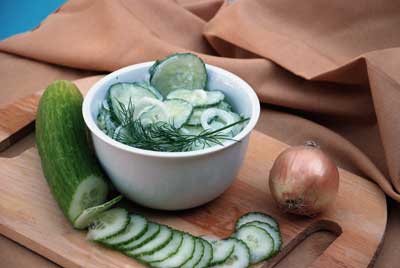 Cucumber and Onions in Sour Cream
Easy, tasty and a perfect compliment to hot and spicy foods!
Yield: 6 to 8 servings
Ingredients
1

English cucumber, sliced very thin

1

small yellow onion, sliced very thin

3
Tablespoons

salt

Water

Season with black pepper

Garnish with any of the following:

Dill sprig

Black sesame seeds

Black sea salt
Directions:
Place cucumber, onion and salt in a non-metallic bowl. Add water to just cover. Let mixture sit for about one hour until the cucumbers wilt. Drain and pat dry with a paper towel (if you are watching your sodium intake, rinse after draining).

Toss in 2 T of sour cream, the cucumbers should just be coated. If more sour cream is needed, add the additional tablespoon. Season with black pepper and garnish as you please! Cover tightly and place in refrigerator until ready to eat. Will keep a day or so.

These are also great as an appetizer on crackers!
Please note that some ingredients and brands may not be available in every store.
Fates Market
Recipes
https://www.fatesmarket.net/Recipes/Detail/6100/